'La La Land' is Worth the Hype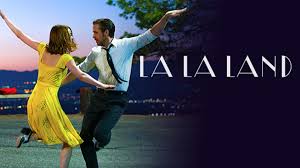 Hang on for a minute...we're trying to find some more stories you might like.
The tone for movie director Damien Chazelle's 'La La Land' is set in the opening scene of the film.  It begins in the midst of a traffic jam on the highway in Los Angeles; however, all of the people get out of their cars and begin singing and dancing.  Watching this scene put a smile on my face because the positive energy it created was palpable.  
It is in this scene where we meet our two main characters.  Mia, played by Emma Stone, is an aspiring actress working at a coffee shop while she hopes for her big break.  Sebastian, played by Ryan Gosling, is a jazz musician who dreams of opening a jazz club, but is forced to take gigs playing music he is not passionate about to make ends meet.  They first meet at the end of this lively scene in a rather comical way, and continue running into each other for the next few months.  After meeting at a party, where Mia pokes fun at Sebastian's current gig, they search for Mia's car together and end up sharing a dance while the sun sets over the city.  Shortly thereafter, Sebastian invites Mia to watch a vintage film showing at a local theatre, and Mia accepts, marking the beginning of their relationship.  
Part of what makes Mia and Sebastian's relationship so interesting is how they are able to bond over their different passions—acting for Mia and jazz for Sebastian.  They support each other constantly, and are always trying to help the other, but without sacrificing their own dreams.  Their focus on their personal aspirations is a crucial part of what makes the movie so well-received. Both of them are strong enough to chase what they want individually, even though it would be easy for one of them to give up on what they want so that they could stay together.  To me, this film is a modern spin on a traditional romance because both Mia and Sebastian are legitimately strong people outside of their relationship.  When they are together, they make each other better, but they do not need one another.
The cinematography is incredible; there are multiple scenes that evoke emotion, not only through the acting, but through the way the film was shot.  One particularly magnificent scene that occurs at twilight overlooking the lights of Los Angeles, is so artfully recorded that when I was viewing it, I felt as though I were there, walking through the warm star-lit night along with Ryan Gosling and Emma Stone.  Another beautiful scene transpires after the couple watches To Catch a Thief, and they go to an observatory where they proceed to dance 'in the stars.'  Both Stone and Gosling's acting is impressive.  Throughout the movie, I was able to sympathize with them as they dealt with the events that happened throughout the course of the film because of how genuine their emotions seem.  
The final scene of the movie is one of the most bittersweet endings to a movie that I have ever seen.  Without giving it away, I will say that the ending is beautifully done.  Visuals displayed on the screen while Sebastian plays his piano show viewers that the movie has more meaning than they might have originally believed, and it is guaranteed to keep you thinking beyond the theater.