Students Spell Their Way to a Win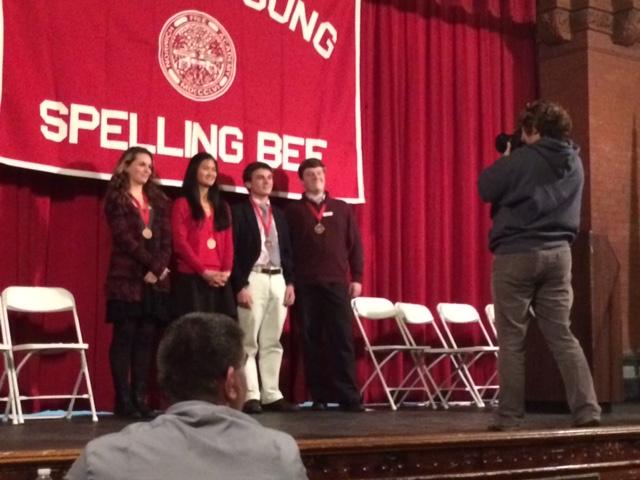 According to the Merriam-Webster Dictionary, "awkward" is defined as "lacking social grace and assurance"; however, for lower Haley Warzecha it meant a cash reward, and the end to an over forty minute long spell-off. The Lillian S. Young Spelling Bee took place in the Slater Auditorium on the night of  November 24.
Students from grades nine through twelve competed, ending the evening with one victor per grade. Ninth grader Presley Hill won with "astronaut," tenth grader Haley Warzecha won with "awkward," eleventh grader Caleb Rak won with "rhetorical," and twelfth grader Connor Provost claimed victory by spelling "carburetor" correctly.
Lower Maura Sanchi says that, "I wouldn't say it's stressful so much as nerve wracking. Just being up on the stage. [To cope] I just take a deep breath."
This was the general consensus among competitors and officials. Sanchi competed for her second year, and she intends on competing again in the future because, "There is always room for improvement; so, I am excited to do it again!" Though Sanchi wishes she had done better, she is looking forward to facing off with her classmates again next year.
Upper Caleb Rak believes that academic competitions such as the spelling bee are beneficial.  "Yes, [they are beneficial] because they help recognize those who study and have high academic achievement. I think [they help] motivate people to have better academic achievement and promote a better learning environment."
NFA English teacher and Spelling Bee Chairperson Debra Kendall agrees.  She compares losing the competition to losing a big game.  "Healthy competition is good. Everybody has their strengths… I think there is a place for everyone."
Sanchi says, "I believe that the words vary in their difficulty. I think that the [difficult] ones are challenging because English is such a complex language. "Sanchi would work to improve the spelling bee by "allowing the question, 'Can I have the definition?' to be asked." Sanchi believes that this question would help to clear up any and all misunderstandings about the words.
Rak would improve the event by allowing competitors "to restart their spelling at least once." He believes that nerves could account for some misspellings, which can be especially frustrating if the contestant has the word spelled correctly on his/her pad.
Kendall has faith that next year's co-chairpersons, English teachers Gretchen Philbrick and Sally Derusha, will work to increase student participation, and she encourages students to compete in the future.
Student participants not only have the opportunity to win a cash reward, but they are able to honor Lillian S. Young's memory, as her son had hoped.  In short, Kendall says that the spelling bee is, " Good fun!"