Adjusting to NFA: The Class of 2020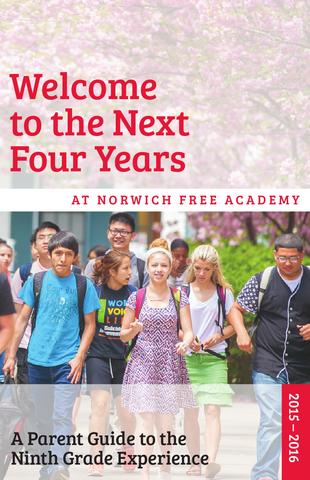 The 2016-2017 school year has arrived at NFA, as has the Class of 2020. The new school year represents new beginnings for the freshmen, but the transition from middle school to high school comes with some difficulty.
Ninth grader Hayleigh Huhtala stated, "The biggest change for me from middle school to high school was the distance between classes. At first, I wasn't used to having to walk from building to building for my classes, and I was pretty nervous.
Ashley Hatch shared that nervousness.  "Going to a small middle school got me used to seeing 100-200 kids everyday. Now that I'm in high school, I see a lot more kids around everyday."
Many of the difficulties that freshmen face vanish when they get involved in one of the number of programs NFA offers to them.   These programs afford the new students with the opportunity to adjust to the campus and to become acquainted with other students in the Class of 2020.
NFA's Wildcat Beginnings is a program that takes place during the summer for incoming freshmen to get to know one another and learn about the school. Approximately 100 students participated in the week-long program during the summer of 2016.
NFA also holds freshman conferences during which the students and their parents meet many of their new teachers and NFA staff members. According to Cranston House Principal Diane Giarratona, over 75% of the freshman class took part in these conferences. All of the ninth graders then took part in Freshman Orientation Day, an official day of school where only ninth graders attend to meet members of the Campus Safety department, learn about the Library and Project Outreach, and learn their way around campus.
Giarratona said "We're all about making [the new students] comfortable, making it safe, and making [NFA] a fun place to be."
One major difficulty that a majority of freshmen face is an increase in work. Giarratona commented, "Certainly, there is a transition to the amount of work. A lot of kids say they didn't get a lot of work in middle school, so there is a little bit of uncertainty in that."
Huhtala agreed.  "The most difficult thing I have experienced so far at NFA is taking three honors courses and having to deal with all the homework. I spend about three to four hours on homework on some days, and that doesn't include studying."
High schools are not the only part of a successful transition; middle schools also play a valuable role. Giarratona said that middle schools are responsible for instilling in students "a sound foundation in math and writing skills" as well as helping students to "[form] very good habits when it comes to work completion at home and in class."
A smooth transition between middle and high school is crucial to ensuring that students are set on the right path for all of their high school years at NFA.  Hatch explained that "listening to the advice given by the teachers" was one of the biggest things that helped her transition to high school.
NFA plans to improve the transition for future ninth grade classes by using feedback from faculty and the Class of 2020. This information will be used to enhance the student-teacher conferences as well as provide other ideas for the future. NFA already plans to "get a list of all the bus numbers that kids are supposed to have, so the kids who are lost on the first day can find their bus."  Giarratona added that there will also be an improved dismissal from lunch on next year's Freshman Orientation Day because "it was a little chaotic."
Additionally, on the freshman tour there will be student volunteers posted at different buildings to share information as well as "two students walking with the group, one in front, and one in back, to make sure no one wanders off," said Giarratona.
Huhtala and Hatch are both enjoying their time at NFA and are excited for the future.  The freshman Class of 2020 will continue to adjust to high school with the continued help of the NFA faculty and staff.