Improvements to the Student Portal Aim to Help Students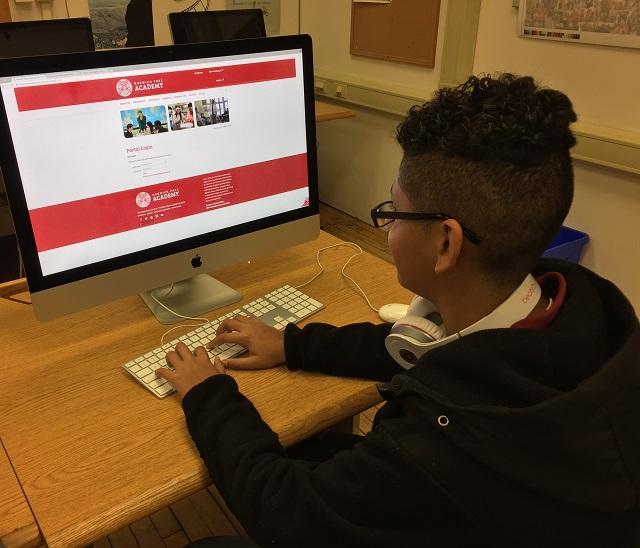 There have been some major changes at NFA this school year, as the Communications Department is trying its best to improve the Student Portal.    
The main goal of the Student Portal is to give students easy around-the-clock access to important information that has to do with school.  
"When you want to find something, you Google it—when you want to find information about school, you find it on the Student Portal," says Director of Communications Geoff Serra.  
Senior Keri-Lin Le likes the "easy access of going from link to link," on the Student Portal, because all important websites are in one place.  He also believes that the redesigned Student Portal gives students the ability to gain an important "digital skill," that will be utilized in a growing digital world.
The percentage of students connecting both with their gmail accounts and the portal is encouraging to Serra.  "What we're really trying to do is to compile information that is relevant and give it to students together all in one place," he said.  
There are also multiple platforms through which students are able to receive notices.  
"Information is available to students in many different ways; they get it by email, it's posted on the portal, we have digital signs around campus," said Serra.  He also stated that there are spikes in activity on Sunday nights, following the Sunday night reminders sent by the Communications department.  
"I like [the Sunday night reminders] because [they list]  everything we need to know very clearly," said senior Elise Vanase.
According to Serra, the Student Portal was created to address "the concern that we were making things more difficult for students, rather than easier."  Students stated that they wanted everything to be located in one place rather than on multiple platforms such as Edmodo, Pearson, and Google classroom; Serra calls the portal a "secure environment," "intranet," since only those with NFA "credentials" can get into it.  
"The website needed to function on two levels;" Serra noted.  It functions not only as an informational tool for students and current NFA families, but as a marketing tool for prospective students and families.  "The portal side is private, and the public side is for advertising," he said. 
While the Student Portal has taken on the responsibility of giving all important notices to students in the absence of homeroom and the morning announcements, Serra has ideas for additional changes.  He would like to increase the available video content on the website, as well as possibly collaborate with the Red and White, the student newspaper.  He also wants to incorporate "more and more interactive kinds of things," such as voting for Homecoming courts or class elections.  For now, Serra noted that the Communications Department needs "to slow down and have people catch up… I think we're in a good place."