New York's New Scholarship Program Could Lead to More Than Monetary Savings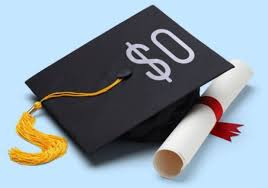 The New York Legislature has recently passed a budget bill that will provide students with free tuition to public universities.  The program is called the Excelsior Scholarship and is designed for middle class families who reside in New York and make less than $125,000 annually.
The state's government website states, "Today, college is what high school was—it should always be an option even if you can't afford it."
In order for students to be eligible for the scholarship. they need to be residents of New York, attend a two or four-year degree program at a public university, maintain a full course load, and plan to live in New York after they graduate for the same amount of time that they are taking part in the scholarship program.  If a recipient moves out of the state, she will receive a ten-year student loan plan for her debts.
Margaret Daley, and NFA school counselor, believes that if New York's new program is successful, it will act as an example for other states to follow.  "I believe RI is already considering this change for their two-year schools," she stated.
"I am in favor of states looking at alternate ways to support their residents at public colleges and universities," said Daley.  She added, "I like that it would provide a tuition break for students and would make college more accessible for many NY residents."
The in-state tuition at public universities is significantly lower than out-of-state tuition.  For instance, the State University of New York at Geneseo charges state residents $6,470 per year, while the out-of-state tuition is $16,320.  This drastic difference in tuition is a recurring theme in public sectors of higher education and can greatly influence a student's school choice.
Since in-state tuition is so much less that out-of-state tuition, it makes sense for students to stay in the same state that they already live to attend college.  However, some people who would like to attend a specific school, but would struggle to pay its out-of-state tuition, decide to move to the state in order to establish residency.  
Rebekah Burke, am eleventh grader at Norwich Free Academy, is struggling with her decision on where to attend college—mainly because of the immense cost.  
"I am very worried, because college is astronomically expensive," she said.  "There is no way I will be able to afford it without student loans, yet student loans are going to put me in a deep financial hole for the rest of my life."
However, Burke says that she would consider moving to another state to establish residency.  "I would probably move to New York," she said.  "I would expect to be able to go to a college there for cheaper tuition than if I was living in Connecticut, and I would hope for some connections with the multitudes of business and entrepreneurs that seem to thrive there."
A valid and important point, since the scholarship that New York recently passed requires students to remain in the state after graduation; and New York is a place booming with opportunities.  
The practically guaranteed debt that goes along with attending college is also an issue, because the loans that students take out at the beginning of their adult lives tend to stay with them for an extended period of time.  The pressure that students face to attend college seems to be growing, a message telling them that they need a degree to be successful; something that allows tuition prices to rise along with the increasing demand.
"I feel a lot of pressure," Burke stated.  "My teachers and parents and all those around me make me feel like if I do not go to college, there is no way I can succeed in life. Every day I hear talk of 'If you want to go to college you should [do this]' and 'Don't expect to be able to [do this] without going to college.'"
Students who move to states to establish residency face the dilemma of taking at least one year off of school-the requirement to establish residency in most states.  This 'gap year' could be tremendously beneficial, or could lead to their downfall.
"I think a gap year can be a wonderful opportunity for students to gain unique experiences before going to college and before they are tied down by life and adult responsibilities." says Daley.  Yet she fears that in some cases, if not used correctly, it can result in a student not returning to school. "It can be challenging to return to the academic schedule and demands after taking time off from it," she said.  "Gap years should be used to enrich the lives and experiences of students."
It is crucial for everyone to experience different things in their lives, and it is a good idea to explore areas of interest before making any concrete decisions about the rest of their lives.  Gap years allow for students to take part in something different such as an internship or a travel experience.  In fact former President Obama's daughter, Malia, is currently finishing her gap year.  If utilized correctly, students can gain a great deal and mature during their year off from schooling.  That experience can help move them towards a successful future.  
"I would recommend students look at life as chapters," said Daley.  "Work on your current chapter; enjoy writing it and living it."