The Best in Town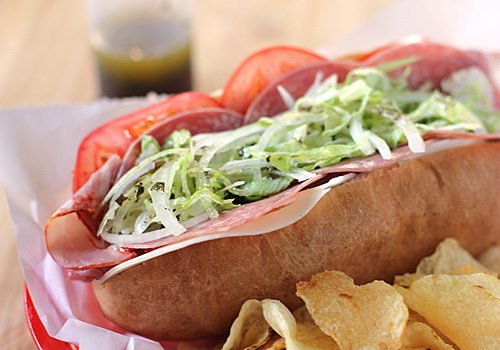 Hang on for a minute...we're trying to find some more stories you might like.
This past weekend I was on a search for the best grinder shops in Norwich, Connecticut.  Subway, Philly's , and Voc's were the three stops on my list.  All three of these grinder shops are classic landmarks in Norwich and bring customers from all over.
My journey began Friday night with a quick stop at Subway. Subway is a chain deli shop, but it still makes the cut for one of the best grinders. I ordered their famous Chicken Bacon Ranch, on Italian bread, not toasted, with extra buffalo sauce, and lettuce to finish it off.  The grinder was hot and had a lot of different flavors, but the sauces and hot meat made the bread soggy.  Nevertheless, I must say that I enjoyed the grinder very much.
I next stopped for a Saturday lunch at Philly's.  I felt the need for a good ol' Philly Cheese Steak.  This grinder shop is right down the street from Norwich Free Academy and has won many awards for "Best Philly Cheese Steak in town" as well as "Best Philly Cheese Steak in Connecticut" from News Channel 3.  Of course I had to have the Philly Cheese Steak, so that is exactly what I bought. I finished the eleven inch grinder in about ten minutes, and it was by far the best cheese steak grinder I have ever eaten, and maybe one of the best grinders overall.
The third and final stop was the  most classic deli in Norwich–Voc's, known all over town for its amazing bread and cold grinders.
"Ive been eating these grinders ever since I was a kid, and no one beats these grinders. I love to spend my money here than anywhere else. It's a family business and you can tell that they work hard to please their customers.  You can never go wrong with Voc's," says long time customer Russell Barboza.
Since it's a classic deli, I had to do the right thing and get the classic ham and cheese grinder, with lettuce, tomato, mayonnaise, oil, and crushed red pepper.  After my first bite, I knew that it had already won the battle for best grinder in town. The bread was fresh and warm and the cold ham made it absolutely amazing.  Then the crushed red pepper provided the little "kick" to top the sandwich off.
All three of the grinders were very good, but Voc's won the battle for the best grinder in Norwich.  Philly's came in second on my list, and then Subway.  All I have to say is that the bread tells a lot about a grinder.