Ending Hunger-One Bowl at a Time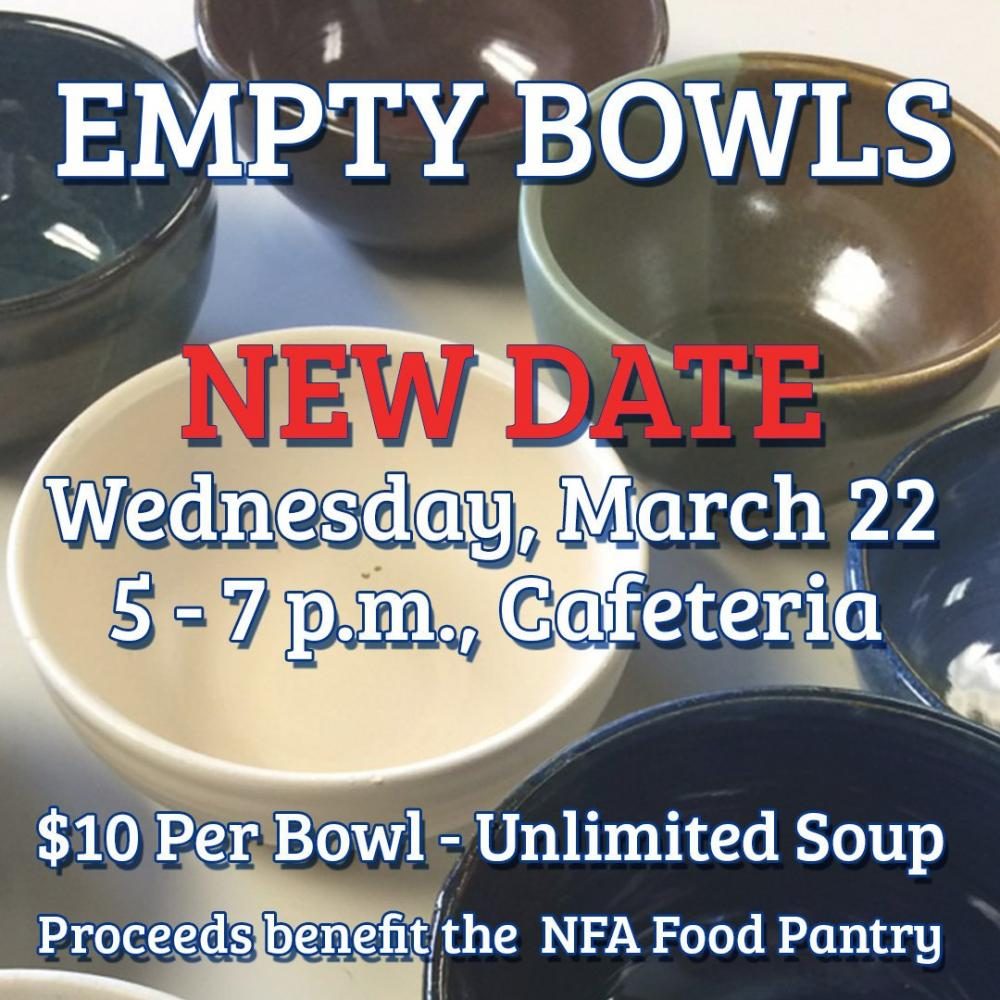 The fifth annual Empty Bowls fundraiser took place in the NFA cafeteria with the help of NFA's culinary and art students. Empty Bowls is an international grassroots organization that was started to aid the fight to end hunger.  The event sold out this year for the first time ever, with the largest number of bowls that have ever been made, 245. Approximately $3,550 was raised, which was then donated to the NFA Food Pantry.
NFA art students created the bowls for the event, and culinary students cooked five different soups, including chili, clam chowder, and tomato basil.  Art teacher, Alyssa Pendleton, organized the event.
"I love the concept behind Empty Bowls and being the pottery teacher here at NFA, I thought it would be fantastic for our community. I think that [Empty Bowls] is a great opportunity to incorporate into my class and teaching the students about their community, and this is one way to give back," stated Pendleton.
The partnership between the art and culinary departments is crucial to ensure the event's success. This partnership is able to work because everyone has the same goal and concerns about raising money to help end hunger.
"We feel it's important to do our part, that we are fortunate and many of of our students and neighbors may have less. It's so important to share whatever time and resources we have for the greater good," said culinary arts teacher, Janel O'Neil.
After people ate their soup, they were allowed to return home with their "empty bowl," signifying that many people go home hungry and have no food to fill a bowl.
Pendleton stated, "It is a great way for [people] to donate their money to a great cause. Students are able to come to the event, pick out a beautiful pottery bowl, eat soup, and know that all the money goes to a great cause."
Ninth grader Sabrina Zhang agreed, "I have learned that even the slightest bit of money could change someone's life, and I will continue to attend the event because the efforts go towards a good cause that needs more attention."
Norwich is home to many families living below the poverty level.
O'Neil added, "There is a dire need for awareness [of] hunger in our own community."
The Empty Bowls fundraiser also creates feelings of gratitude and joy among the students and faculty involved, who know the impact they have made on the hunger crisis.
Zhang stated, "I attended the event because I wanted to be a part of the movement to end hunger, and I feel great in doing so."
O'Neil agreed, "It is gratifying to see people enjoy our efforts as well as contribute to the worthy cause of hunger in our community."
After the immense success of this year's Empty Bowls fundraiser, Pendleton looks forward to continuing the event and seeing its growth for years to come.
"I'm excited to see how the event continues to grow. It makes me feel happy to have the students feel good about making a difference."