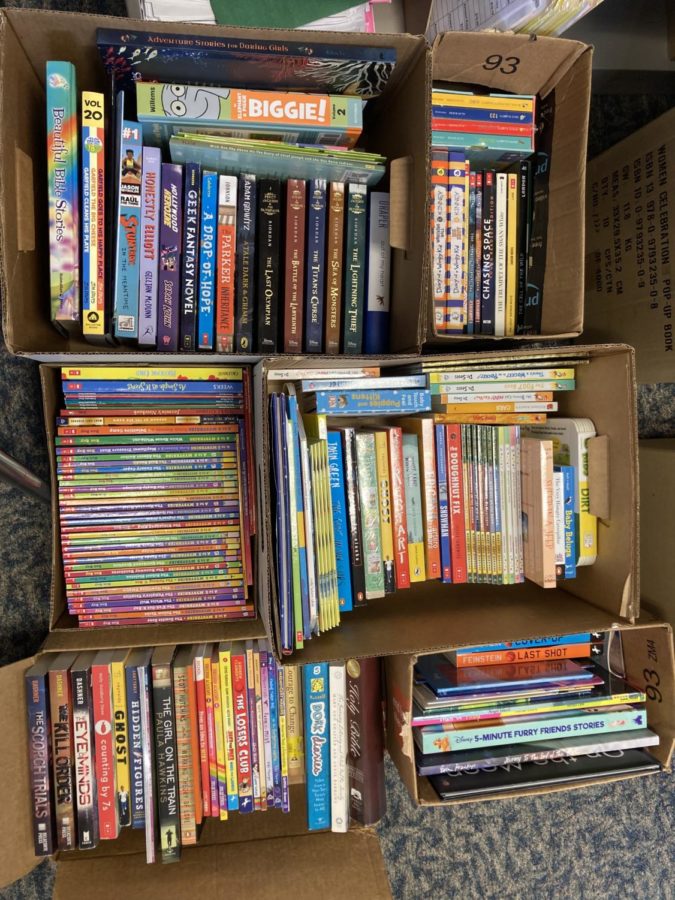 Amy Zhang
Imagine children waking up on a Christmas morning to see no presents under the brightly-lit Christmas tree. During the holidays, impoverished families have a hard time buying gifts for their children. 
NFA's Holiday Book Drive was put in place to help those in need. The holiday book drive started on November 28 and ended on December 13. It started slowly but ended successfully with almost two hundred books donated.
NFA's librarians recommended new books for any age, from a child to a high school senior at 18-years-old. New books that are given are donated to St. Vincent de Paul Place and gifted to people for the upcoming holidays. Alongside the books, St. Vincent de Paul Place also operates food and clothing pantries.
St. Vincent de Paul Place is an organization in Norwich that helps those who are physically, mentally, or spiritually impoverished.
"You don't have to spend a lot of money to get great deals on books because you can walk into any dollar store, everything at the dollar store is a dollar," said Kristie Leonard, Director of NFA's library and one of the organizers of the book drive.
Don't judge a book by its cover! A simple picture book can have a big impact on children. Children learn from books, which helps shape their beliefs and values growing up. Adults might do something a specific way because they were influenced by the book they read when they were a child and they just grew up with that.
Mrs. Leonard recently has given her children's toys and books to another mother and she was told that the Froggy books was their child's favorite, out of everything she gave her. It's surprising because a simple thing as a book can become someone's most cherished thing.
"It's a period of time in your life when those characters mean more to you and like I said, they really truly shape your values and who you become later on," explains Mrs. Leonard.
Mrs. Leonard's experience shows that books can become the most important thing for children.
Froggy books also changed how some swimming lessons were taught. In the book Froggy Learns To Swim, Froggy overcomes his fear of swimming, which also encourages children to overcome their fear of swimming.
Books are an important part of our lives, no matter if you're a child or an adult. As a librarian, Mrs. Leonard can see that very clearly. 
"Finding someone else who also loves that story is like an instant bond. And I have seen because of books that people of all backgrounds and economic levels, and even if you said 'Gee, here's these kids and they are friends with this group of kids and here's this kid and they're friends of this group of kids and suddenly they seem to have nothing in common until that book that brought them together and suddenly they have something to talk about' and I think that's amazing!"
Those who have ever bonded with someone over a mutually-loved book will recognize the importance of getting a good book into the right hands, and Mrs. Leonard is hopeful that future book drives will see more donations.