Love is in the Air at NFA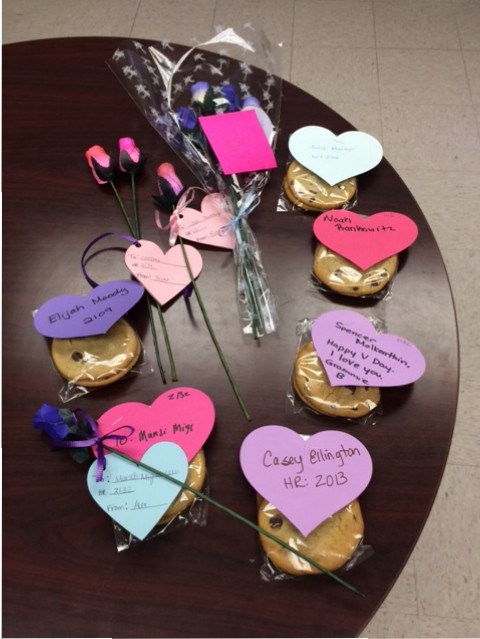 At Norwich Free Academy, Valentine's Day is for everyone. In fact, students can share their affection for each other via small gifts such as wooden roses or "Love Bites."
Love Bites are an annual tradition started by math teacher Melissa Cassidy nine years ago. They sell for one dollar and consist of a message and two cookies that are delivered to the homeroom of the recipient on the last day of school before Valentine's Day.
Cassidy says, "I was a class adviser at the time, and we needed a fundraiser, so [I] created Love Bites as the first fundraiser for Valentine's Day."  
This year the Love Bites benefit the Class of 2019;  however, the beneficiary of the fundraiser has changed from year to year.  The profits have typically gone to either individual clubs, or one class year.   Cassidy chooses who receives the funds each year.
Freshman Alli Sutton believes that, "[Love Bites] benefits people's compassion towards each other. It could [also] help with someone's self esteem if they get a sweet message."
Upper Olivia Pecoraro agrees. "Everyone benefits from love bites because they make people feel nice and more comfortable."
This year, students can share their love and affection for others with more than just cookies. NFA's Gay Straight Alliance club sold wooden roses of all colors, and students had the opportunity to buy either one plain rose, one fancy rose, or a half dozen in a bouquet. A plain rose sold for one dollar, a fancy rose cost two dollars, and half dozen roses cost five dollars.
School psychologist and GSA adviser Beth Serra explains, "The profits from the roses will be used towards funding GSA's trip to the True Colors conference at UCONN in March."
Pecoraro thinks, "It is wonderful that people can share true affection, romantic or platonic, with Love Bites and wooden roses. It challenges the social norm of just giving things to a romantic partner."
Serra says, "It is always nice to feel appreciated by someone."