Ivy Bound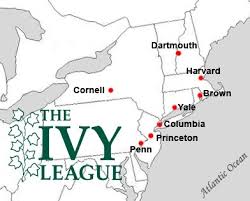 Harvard. Dartmouth. Brown. Cornell. With average acceptance rates of between five and 15 percent, these are dream schools for millions of high school students around the world.  This year, several students from Norwich Free Academy received acceptances from the prestigious Ivy League universities.
Chris Arpin
Chris Arpin always knew he wanted to attend Harvard University in Cambridge, Massachusetts. The Institute of Politics at Harvard and the law program attracted him to the school.
"I intend on pursuing law, particularly environmental or labor law. It's a good way to help out in the community and help solve problems that people or organizations might be facing," stated Arpin.
During his time at NFA, Arpin has been involved in Student Advisory Board, Young Voters Society, Science National Honor Society, Spanish National Honor Society, and National Honor Society. In addition to these clubs, he has also taken difficult courses at NFA.
"AP classes [prepared me the most for college]. They can be challenging sometimes, but they prepare you for what college will be like," commented Arpin.
Arpin has advice for students entering the college application process,"You need to be determined and you need to work hard in order to achieve your goals. Staying focused and not getting caught up helped me stay focused and working towards achieving my goals."
After Harvard, "I will use my college education to gain insight into different experiences, different communities that I am unaware of, different struggles that I do not understand, so I can better connect with the world and with other communities and other people," stated Arpin.
Haley Warzecha
Haley Warzecha will attend Dartmouth College in Hanover, New Hampshire, in the fall.
"I ultimately chose Dartmouth because of the opportunities in networking; so [I will] have a lot of opportunities in a small school that's also a research institution. [I] can make strong connections with professors who care about undergrad teaching as their main focus," stated Warzecha.
Warzecha wants to double major in biology and economics, but she is passionate about science. She wants to do research in the field of behavioral biology and have a career that makes an impact. Throughout her four years at NFA, she has participated in soccer, track, and environmental club, and she has worked internships at the Historical Society and volunteered at Backus Hospital.
Warzecha feels that classes at NFA prepared her for college.
"Chemistry was a struggle, but it helped me understand what course load I would have in college and that challenged. The English department has really great teachers. Mr. Driscoll sparked intellectual curiosity," stated Warzecha.
When it comes to what helped Warzecha become a successful student, she believes, "wanting to learn and having the drive to succeed. Having a good work ethic; being able to balance extracurriculars and school work helped me maintain a good GPA and rank. Competition really challenges you and provides a catalyst for your own growth."
Warzecha has an important piece of advice for high school students: "Get involved in things that make you excited and happy. Be hard on yourself when you need to and have that balance. Surround yourself with good people like your parents, coaches, teachers, and friends. Encourage each other and surround yourself with positive people."
Ashley Lac
Ashley Lac will attend Providence, Rhode Island's Brown University in the fall.
"The primary reason I committed to Brown was because of the open curriculum. I enjoy the flexibility of directing your own educational journey. The open curriculum allows you to explore any intellectual interests," stated Lac.
Lac wants to study economics.
"I chose [economics] because it was such an interesting class to me. It puts a lot of your everyday decisions into perspective, and it's interesting that the interactions you have can be represented in graphs."
During her time at NFA, Lac participated in Student Advisory Board, Asian Cultures Club, and the swim team.
Lac's teachers at NFA helped her push herself to succeed and prepared her for college.
"Mrs. Trotochaud was always after school and is a great resource and really passionate about teaching. Mr. Martin would help me in math whenever I had questions. Mrs. Dooley, the SAB advisor, was always there to answer questions and write letters of recommendation," stated Lac.
An important part of Lac's life is helping others.
"I'm passionate about community service. It has allowed me to meet so many great people. I volunteer at several places, like Otis Library," stated Lac.
Lac's advice for students entering the admissions process is, "Get started in your college application process early. Keep track of your deadlines and make sure you're on time."
Kiara Tanta-Quidgeon
Kiara Tanta-Quidgeon will attend Quinnipiac University in the fall and transfer to Cornell University in her sophomore year.
"I got into the College of Agriculture and Life Sciences [at Cornell]. I thought this was better than a typical college of arts and sciences because I am more attracted to the biology and society aspect and how they interact in public health," stated Tanta-Quidgeon.
Tanta-Quidgeon plans on studying biology, and she is interested in public health and health policy. She wants to go into the medical field and pursue a career as a doctor and do research.
"I am passionate about medicine and health advancement. It has been a big part of my life. I've spent a lot of time at Hartford Children's Hospital. I have Von Willebrand Disease and I've seen a lot of a lot of different aspects of health, so I want to become involved," stated Tanta Quidgeon.
Tanta-Quidgeon's science classes helped her realize her ability to achieve her goals.
"The science program at NFA helped me realize I am capable of becoming a doctor. The way the leaders in the science department at NFA have helped me made me realize I am capable of doing it, even though it seems hard," stated Tanta-Quidgeon.
Tanta-Quidgeon has been a member of the Musicians Club, track and field, cross country, Science National Honor Society, National Honor Society, American Sign Language Club, and Native Americans Club.
Her biggest advice for students entering the admissions process is, "Don't freak out. No matter what, you're going to end up where you belong and trust the process. It's scary and rejection hurts, but don't let it define who you are."
Tessa Carty
Tessa Carty will attend Cornell University in the fall. She plans to study engineering and is passionate about learning.
"Engineering is a mix of things I enjoy and love learning, like science and math. I want to work as a civil engineer, maybe in transportation, because it has such a large impact." Carty stated.
Taking a variety of classes at NFA not only helped Carty realize what she excels in, but what she is interested in.
Carty has been a member of the field hockey and golf teams, and she has volunteered at Scotland Public Library and her former charter school.
"You don't have to be super smart or super rich. If you work hard, you can overcome any weaknesses and help you get where you want to be."
Carty's advice for students who are applying to college is,"Be yourself and show who you are on the application."
She looks forward to "being able to innovate with engineering and create new structures to make this world more innovative and work towards the future."
These five NFA seniors exemplify hard work and dedication as well as a passion for learning. They are proof that hard work pays off.