Students Bake Pies for the Less Fortunate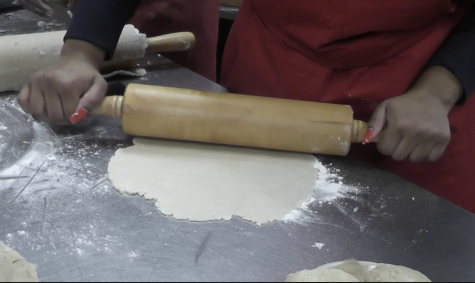 The ninth annual Pie Baking event helped those who needed it the most during this past holiday season.
"Actually, it was the students that decided they wanted to [bake pies] many years ago. Every year since, we've been joining forces with the culinary arts program and it's been great… These pies are going to go to the soup kitchen and be a part of their Thanksgiving celebration," explained Project Outreach director, Jodi Savage.
According to Connecticut Food Bank's website, "Nearly half a million Connecticut residents struggle with hunger, more than 127,000 children are food insecure." 
NFA is trying to lower those numbers one student at a time.
"The pies feed over 300 people during Thanksgiving. I think it's very important for [the students] to know that they're going to make someone happy for the Thanksgiving holiday," added Savage.
All of the pies baked were donated to the St. Vincent DePaul soup kitchen in Norwich.
Students Jadeisha Rodrigues and Claire Watrous think that it is important to give back to the community.
"This event helps people who aren't so lucky to get food and not be starving during the holidays," Rodrigues said.
"We're providing pies for underprivileged people, so that they can have the same experience as us," added Watrous.
Amy Reed, one of NFA's culinary teachers, said, "I think it's a great experience for them to give back during this Thanksgiving time to be able to produce something for someone else… [It gives them] a sense of worth, and knowing they did something for the less fortunate."
For students like Watrous, donating time is not only helpful to the community, but it is personally beneficial. 
"We're providing pies for underprivileged people like [those in] homeless shelters so they can have the same Thanksgiving experience as us. [This event] means that I'm doing my part to make the world a better place."