What you don't see – mental struggles of tearing the ACL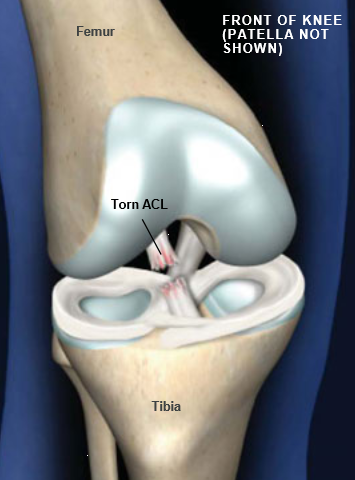 Tearing the ACL, or anterior crucial ligament, is a season ending injury that involves a long mental and physical recovery. John Newson, an alumni of NFA, and Kayla Redanz-Swett, a senior at NFA, have both personally gone through this ordeal. 
While at soccer practice sophomore year, Redanz-Swett tore her ACL  by over rotating her knee.
Newson tore his ACL while playing in a flag football game after college. He planted his foot to cut and his cleats did not catch in the turf correctly. His body weight and position just happened to land in the perfect place to cause his knee to buckle underneath him. 
The recovery process for an ACL is a minimum of 9 months. The recovery process for a full tear starts with an ACL reconstruction surgery in which they replace the torn ACL with a cadaver ACL or a muscle from another part of your body. Then, there is  physical therapy. One also has to account for the mental recovery, which can last for years. 
"The biggest milestone is when you are able to go out and play and go full speed for the first time. You realize that you're not actually thinking about it," Newson said.
 He mentioned that it probably took him about 2 years or more from when he tore his ACL to be able to go out on the field and not think about his injury.
Redanz-Swett had a similar experience in terms of the mental recovery. 
She mentions that she was very scared to hurt herself again because it is such a long recovery process. She remembers that her fear stopped her from playing her best game. 
"I was very, very timid on the field I was so scared that I was going to hurt myself again that I just wasn't aggressive anymore," said Redanz-Swett.
Kayla Donovan, Norwich Free Academy's certified athletic trainer agrees that the mental recovery is very painful.
"The physical recovery can be a hard one, but I think a big part is mental. And making sure your mind is right for your recovery," said Donovan.
Donovan also mentions that the length of the recovery discourages some athletes.
"Some athletes… get frustrated because they feel so good… and they're not allowed to proceed to where they want to go,"  says Donovan. 
Newson mentions that it's different to get hurt after doing something that you have done a million times before, versus getting hurt because someone hit you. When someone hits you, you know what happened, versus being scared that you could so easily hurt yourself again doing something so normal.
There are a million thoughts that can run through someone's head after going down with a potential injury like this on the field. Redanz-Swett remembers feeling very upset right after she went down. 
"I realized that I was going to need surgery and I just did not want surgery. I just didn't want to  be taken out of soccer," said Redanz-Swett.
Newson also remembers what was going through his head when he went down at his game. He comments on that moment saying that he knew he did something serious but he was hoping that he wasn't right. 
"It was shocking. And you know that you just did something pretty serious but you're hoping it wasn't what you thought it was," said Newson. 
Both athletes agree that the mental aspect of tearing their ACL is one of the hardest things to get over. They both had to come up with strategies to cope.
Redanz-Swett says that naming items, like her brace, really helped her recover. She called her brace Brad. 
"One of the biggest things that helped was actually naming the stuff. Naming my brace really helped because it kind of made it into a joke almost. [It] kept me in a good mood," said Redanz-Swett.
Newson says that the fact that he was already in good shape and his own mental toughness helped him through the recovery process. 
He mentions that tearing your ACL is, "not the end of your career. You just have to work hard to get back, but you can get back and you can recover."
As a trainer, Donovan sees many ACL injuries and  knows personally what it's like to tear the ACL as an athlete and the amount of work it takes to recover. 
"I've torn my ACL twice, so I know the personal aspect of it. The first thing that pops into my head is I do feel very bad for the athlete because I know what they've been through and [what] they're going through."
Redanz-Swett, who has now torn her meniscus for the second time, knows all too well the pain of recovering from an injury. She has, however, been able to get a doctor's note to play in her senior night game. 
 "I made it this far. I need to embrace that this is it for me for NFA. I want to represent my school as much as possible. I am a senior at NFA I am proud to be going to this school. And yes, I hurt myself, but I really just want to be able to play that one last time before I have to go get surgery."
Kayla had surgery on October thirty-first, the day after her senior night game, and is now recovering.